×
If you like this content, you can receive it free as an email newsletter.
Subscribe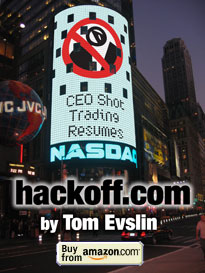 The hardcover edition of hackoff.com: an historic murder mystery set in the Internet bubble and rubble is several steps closer to real. As you can see from the picture on the left, it can now be preordered from Amazon – won't be delivered yet though (or your credit card charged). We are still in the initial stages of the physical printing process. If you have been reading hackoff.com online and would like to review it, the Amazon page is a perfect place to do that. The Amazon edition is the only one that costs money. Others are free.
There are also new RSS and email editions of hackoff.com which actually start with the first episode. Duh. Something I should have thought we'd need but didn't. Of course, you can read the book from start to the latest session on its website here .
But some people like to subscribe to their favorite blogs in feedreaders like Bloglines and NewsGator (This is called RSS for Real Simple Syndication). Others like to receive their blogs by email. Up until now, if you subscribed to the blook, you got a new episode every weekday BUT the serialization started with the most recent episode posted. Since we're now in Chapter 7 – the one about a secondary offering of hackoff.com stock – that meant that new subscribers were starting in the middle. Not a good thing with a mystery.
Two weeks ago at the much-blogged-about USV Sessions, Dick Costolo and Jeff Jarvis both told me that Cory Doctorow's book Someone Comes to Town, Someone Leaves Town was available in daily doses starting from the beginning on the day you subscribe. A light bulb came on. "Obvious. Why didn't I think of that?" Most of our readers DIDN'T start in the beginning. Instead they've followed a link to hackoff.com from some other website or been referred by a friend. If they want to subscribe, they want to subscribe from the beginning.
There were a few technical obstacles to doing syndication the way Cory's book is distributed but we had a lot of help from our friends at FeedBurner, FeedBlitz, Signals, and, of course, our publisher dotHill Press. Now you can subscribe to hackoff.com starting at the first episode (or any other) by clicking here for RSS (feedreader support) or here for email.
The powerful APIs (Application Program Interfaces) provided by FeedBurner and FeedBlitz were a huge help. Short definition of an API for the non-nerds is that an API is the way one program requests services from another. APIs deserve a post of their own (and will get it) because services like these two with APIs have a substantial market advantage over closed services AND offer greater value to their users.
It's great how fast you can correct a product shortcoming with Web 2.0 tools. But sometimes your friends have to give you a little push in the right direction before you see that you need a correction.